Starting from version 11.0 of Able2Extract Professional, we embedded several new functionalities which are able to deal efficiently with pretty complicated table structures. To access these options, open a PDF file in Able2Extract application, select the data and click on the Excel button on the main toolbar. Then in the Convert to Excel dialog that will appear click on the gear icon – the following dialog will open, containing sub-options that will allow you to further modify your PDF to Excel conversions.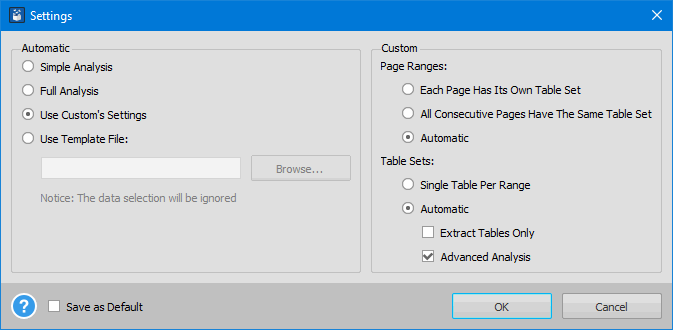 Automatic Settings
Simple Analysis – This option allows Able2Extract to automatically designate the rows and columns of the PDF to Excel conversion. Use this option when your PDF content contains simple table structures with basic rows and columns. In some cases, the Simple Analysis option can help to fix problematic conversions when converting in Full Analysis mode.
Full Analysis – This is the default for Automatic PDF to Excel conversions. By using this option, Able2Extract will perform a deeper analysis of your PDF tables to produce more accurate conversion results.
Use Custom's Settings – This option is selected by default, allowing you to use the Custom settings you specified for analyzing table sets and page ranges.
Use Template File – This option will allow you to upload and use an existing Custom Excel Template file on your data when using the Automatic conversion option, regardless of the data you selected for conversion.
Note: When you save your conversion options using the Save as Default setting, the Automatic conversion options you select here will also affect the PDF to Excel conversions done through the Batch conversion feature.
Custom Settings
Page Ranges
The options in this category specify how Page Ranges for Custom Excel conversions are created. Page Ranges are groups of pages that have similarly structured content and can, thus, have the same table structures applied to them for conversion. They help Able2Extract in performing complex PDF to Excel conversions. Hence, the following options will give Able2Extract some direction as to how the source document is structured.
You will be able to choose from the following options:
Each Page Has Its Own Table Set:

When checked on, Able2Extract will create table structures for each individual page.

All Consecutive Pages Have The Same Table Set:

Selecting this option will allow Able2Extract to create table structures that are appropriate for all consecutively selected pages.

Automatic:

When this option is turned on, Able2Extract will attempt to analyze the selected pages and automatically determine which pages can share the same table structures needed for the conversion process.
Table Sets
Single Table Per Range
With this option checked on, Able2Extract will generate tables around the selection for which you can specify the Custom options noted above.
If the Single Table Per Range checkbox is left unchecked, then Able2Extract's conversion algorithm will perform a detailed analysis on the content of the pages and determine if several tables have to be created to more accurately convert the document.
Automatic
Extract Tables Only: This option will convert only the tables from your selected data during the conversion process, excluding any surrounding text. This option is ideal in cases where "separated" or "scattered" multipage tables exist.
Advanced Analysis: Able2Extract's advanced table recognition algorithm can be used to automatically search, select, and identify PDF tables with similar column structures.
Save As Default
This checkbox allows you to save your conversion settings as a default. Select this option and click on OK.
This article refers to Able2Extract Professional.