This error message indicates that this particular PDF file is encrypted. In other words, the creator of the file has placed password protection on the document so that it cannot be edited or altered in any way. Unfortunately, our software is unable to crack encryption codes. Hence, the only way to convert such document would be to obtain the password from the creator, or to get a new PDF file that has not been encrypted.
In case you have a password and are using Able2Extract Professional 11.0 or later, you can also use "Decrypt Document" command from the Edit menu to open your secured PDF and decrypt it for sharing with others. To do so, please follow these steps:
Open Able2Extract Professional application.
Click on the Open button on the toolbar so as to open your PDF. The software will now prompt you to enter the password. After you have entered the password in a Password field and then clicked on the OK button, your file will be opened.
Now click on the Edit button on the toolbar to switch to editing mode.
From the Edit menu select the "Decrypt Document" option.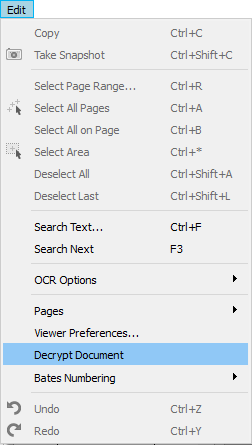 Before closing the document, to save the modifications you have made to your PDF file, click on the Save button on the toolbar or use the "Save As..." option from the File menu.
This article refers to Able2Extract and Able2Extract Professional.